You just finished up your photography session and purchased some pretty framed prints or maybe some canvases. Now what?! Now that you've got them home you're stumped how to display them. Maybe you and your photographer have created a visualized set-up but you're not sure where to display that canvas collection at. Take some time to check out these creative options to give you some inspiration on where to place those photos on your wall! We added some fun farmhouse style contemporary ways to display your photos as well as links to purchase the items to get you started.
PRINT YOUR PHOTOS THROUGH A QUALITY PHOTO PRINT LAB
One of the best recommendations we can make for printing your photos is to use Mpix for all your printing needs. We encourage our clients to use this lab because it is a sister company of the lab we use when we print your professional pictures. So, to get $10 off your first purchase click the link below and start shopping once you've checked out some of these unique ideas below!
---
Unique Ways To Display Family Photos In Your Home
(Including Links to Items from Amazon!)
*These links are affiliate links, which means I do get a small commission if you purchase from that link (with no added cost to you!)
**We are not claiming ownership of the below images, please click on the image to see the original photo's/posts and we've given credit to those owners!
Stacked Frame Picture Ledge
We totally love the look of these mixed frames! And they're perfect to easily update when you get new prints in.
---
Wood Trimmed Hanging Portrait Display
I've been obsessed with these and as a photographer, I love finding ways to make your products upgradeable so you're not stuck with one print forever and can re-use your products. This frame it the ticket! Simply order the loose canvas, and use the frame again and again.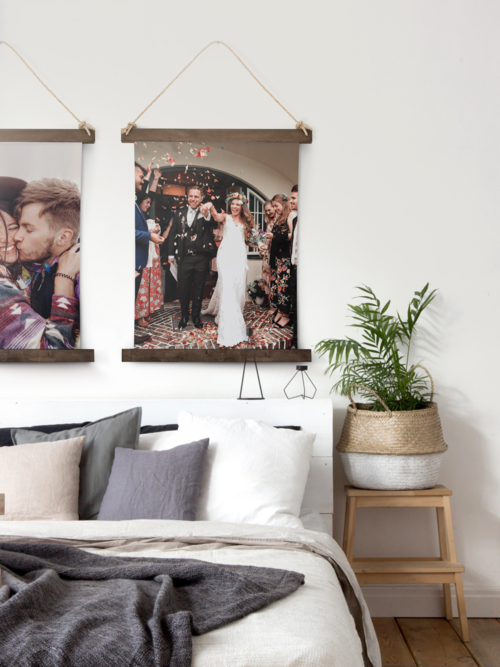 ---
Entryway Framed Gallery Wall
I LOOOVE the crisp clean look of a simple gallery wall.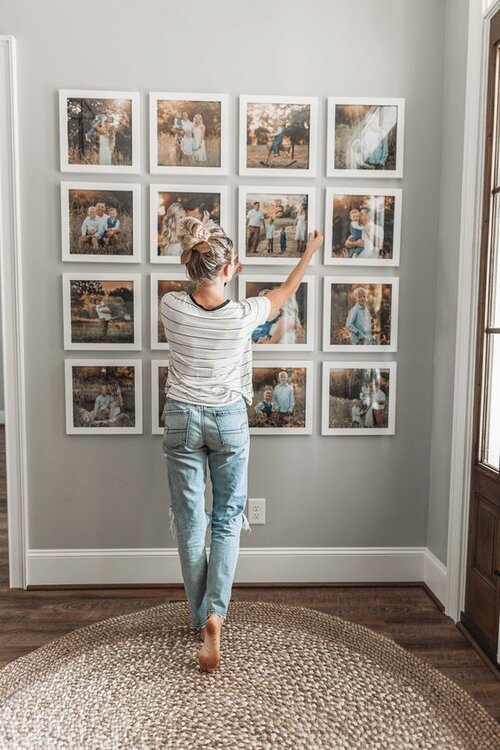 ---
Honeycomb Photo Wraps
These unique canvas wraps are so fun to create each year and watch your family grow!
---
Clothes Pin Clips
These are cute for any teen that wants to display all those fun phone photos!
Wood Float Mount Framed Prints
These frames are totally unique and I love how the images really pop! We've added a lighter example but feel free to stain the frames to darken them up as you'd like.
---
Ladder Photo Frames
I actually have one of these in my house and it's the perfect touch to fill a corner of the room!
---
Large Canvas Wall
These are beautiful and can be printed through any local print lab! We recommend MPix as mentioned above.
---
Display Vintage Images In Shadow Box
These are so much fun to find a way to create something out of older photographs!
---
Photos Printed On Wood
While these are custom ordered items, they are fun to mix and match to add depth and texture to any portrait wall display.
Large Engineer Black & White Images
These are so popular right now! And we love the simplicity of how big of a statement these prints can make!
---
Hanging Photo Frames on Hooks
These are super simple to swap out and update with your latest kids' pictures. Simple add some twine to the back of a regular frame and you've got a unique diy that makes a statement on your wall!
---
Window Frame Clip Style Display
These are so simple and yet, so fun to use up all those cell phone pictures!
---
Float Mount Frames
There's something about making a statement with these simplistic frames that go great for a modern twist on your family portraits!
---
School Photo Display Board
These are always so cute! And everyone needs a way to display all those embarrassing middle school pictures 😉
---
If you liked this post make sure to check out some of our other recent posts:
Phone To Photobook Series Part 1 | Backing Up Your Photos
Phone To Photobook Series Part 2 | Culling & Sorting Your Photos
Phone To Photobook Series Part 3 | Designing Your Photobook