What To Wear For Your Upcoming Senior Portrait Session
Stuck on what to wear? We're here to help! Here are some of my favorite tips and tricks to help you guide your outfit choices! Choosing what you will wear for your photo shoot is a huge decision that can make or break your senior portrait session! I know that sounds dramatic… but, if you accidentally wear something that isn't flattering on camera or something that you don't feel confident in…it can ruin the experience for you! So, here are some of the best ways to choose what to wear. We love being a Nebraska high school senior photographer and over the years have found these tips so helpful for encouraging our seniors to show up with a glow up!
Senior Style Tip: Be Comfortable
If you do not like fitted clothing (super tight dresses or pieces that fit awkwardly) then leave them at home! Personally, I try to steer clear of items that are fitted in the tummy area (don't we all?!) just because it makes me selfconscious and I'm constantly wondering if it looks bad. So, if there are pieces in your closet that make you feel self-conscious or uncomfortable, don't include them in your senior portrait wardrobe! Additionally, we will most likely be sitting on the ground, laying down, walking and doing other things that could be difficult if your clothing is uncomfortable!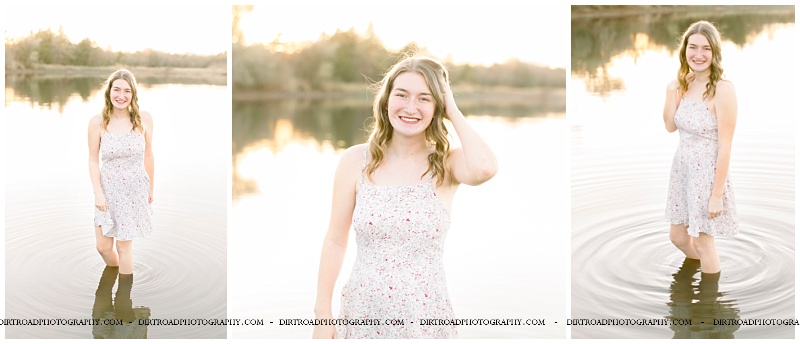 Be Unique + Think Outside of the Box
On camera, solid black + white or bright neon tones can make skin tones look very washed out and unflattering. So, when choosing outfits for your senior session, try to choose colors that are more neutral and that compliment your hair + skin colors! Primary colors like maroons, dark navy blues and creams photograph beautifully as well as olive greens, and pastel purples, pinks and oranges. Sometimes, color combos that may seem odd in-person end up photographing BEAUTIFULLY on camera! Also, consider the location you're shooting at. If we're doing a more nature geared session, you might want to steer away from green tones that would blend in with grass tones. Try opting for color choices opposite of that on the color wheel.
Senior Picture Tip | Add layers
In the cold months (fall + winter), adding layers to your outfits always looks STUNNING in portraits! A sweater with a flannel underneath paired with a vest + necklace or scarf adds so much dimension to your images. It also makes for super fun posing options! Even in the warmer months (spring + summer) you can add these layers and dimension by wearing a tank top with a cute sheer cardigan or by throwing a denim vest over a dress! We're big into flowy layers so we have something that creates movement within images. It also gives you a built in "prop" to work with! Check out Tia's post with how she used this flowy dress to add movement into her sesh.
Senior Outfit Tip: Play With Textures
Sometimes textures like sequins, furs and sparkles can be considered "daring" or "over the top". But, in portraits, they are the BEST! Adding texture to your outfit makes the biggest difference, and it prevents the images from looking dull! Combining textures that you may not normally use together like sequins + cable knit sweaters or leather + fur make GREAT pairs!
Senior Style Tip: Don't Be Afraid To Accessorize
During a senior session, or any photo shoot, the more the merrier is our concept!! 😉 When planning your outfits, don't forget to plan accessories!! Stacks of bangles, long necklaces, scarves, hats, cute heels/shoes and other add-ons can make or break an outfit!
Mix It Up
When planning your outfits, make sure that you have a VARIETY of looks! I tell all of my seniors to choose from these categories: casual, cozy, dressy, school related, sports-related, preppy or edgy. I always recommend choosing 2-3 of those categories and finding outfits accordingly. This provides a beautiful array of looks during your senior portrait session, so each outfit looks dramatically different!
You can also get some "what to wear" inspiration on our